About this time last year, I was neck-deep in research and testing to complete my thesis for grad school at Savannah College of Art and design. My thesis studied the effectiveness of spatial memory in a virtual reality (VR) game space on users that do not normally employ memory castle techniques. The primary focus was on sequential navigation through various types of content with the goal of encoding memories for accurate sequential and non-sequential recall. To earn my MFA in Interactive Design and Game Development, I found myself researching quite a bit of cognitive psychology.
About 2 years earlier I settled on this topic for my thesis. It happened quickly after I built a prototype to test my Virtual Reality Memory Castle hypothesis. The prototype used the first 32 digits of Pi as content and a very simple 3D space to create the sequence and attach a story to the content. It wasn't perfect as some number groupings got transposed during recall, but it was really profound to discover how easy it was to recall the content by recalling the space.
I remember building the test for a homework assignment over the weekend. I stopped at 32 digits because I had to leave enough time to write about it for my professors. The technique didn't seem to have an endpoint where long-term recall would start to fail. Although I probably need a refresher to fix a couple trouble areas, I can still recall the random string of numbers with ease today. About two and half years later.
The memory castle technique is not a new one. Also referred to as the Method of Loci, the technique is a 3,000-year-old mnemonic device. What is new, at least for my thesis, was the common and affordable VR hardware and software that was emerging at the time. The VR systems like Oculus Rift, HTC Vive and cheap VR viewers allowed me to create artificial spaces that, as far as the eyes and ears were concerned, were real spaces.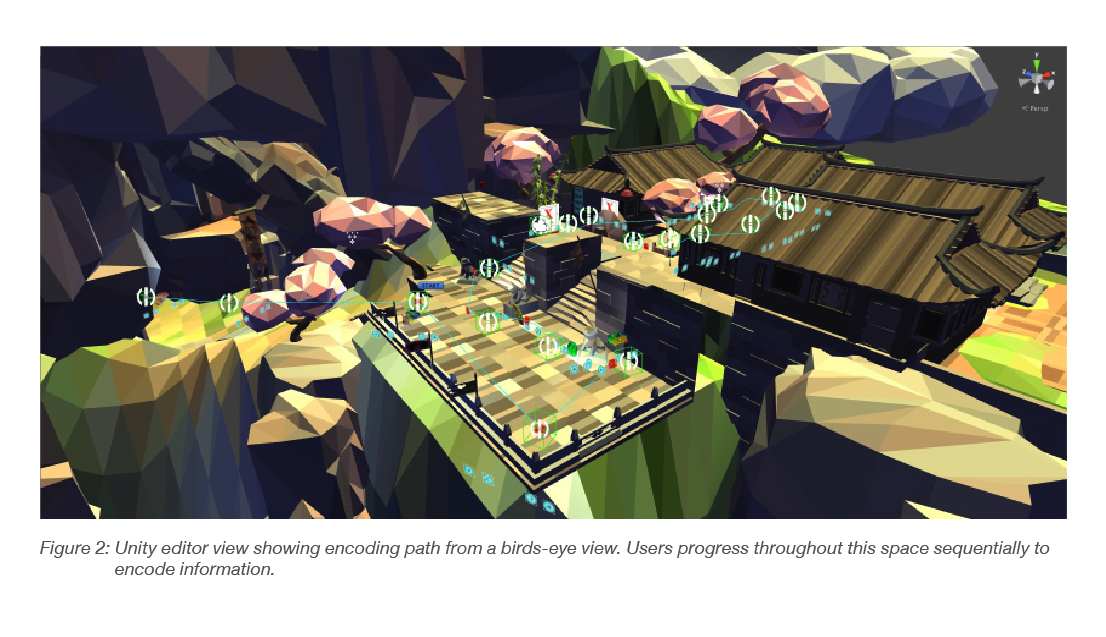 A smart use of complimentary memorization techniques allowed the VR memory castle to be created as generic spaces that anyone could use. The key advantage here is that the end-users did not need to create their own, personal memory castle spaces. They didn't need to be aware of the techniques or spend any time in creating effective memory triggers. With several hours invested up-front by the content developer, end-users simply spend a few minutes absorbing the memory-optimized content prepared for them.